Welcome to AKASH DTH Service Bangladesh | 115 TV Channels & 20 HD Channels full set up 6499 TK & Monthly 399 TK Content. Beximco's direct-to-home (DTH) satellite service venture AKASH is set to go on air on Sunday, with the company offering one-month free subscription to lure people in to the new way of watching TV.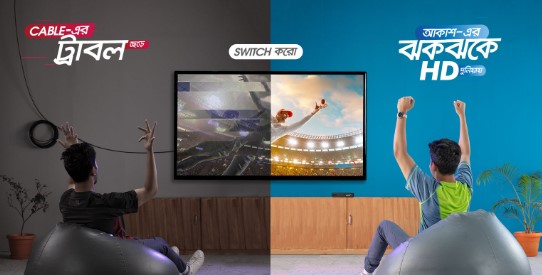 In DTH, TV channels are transmitted from the satellite to a small dish antenna mounted on the window or rooftop of the subscriber's home. So, the broadcaster directly connects to the user, doing away with middlemen like local cable operators, who tend to offer channels of their preference. Not only is there a greater selection, the picture and sound quality is better for the DTH viewer since the signal is not split through a cable.
About AKASH (আকাশ) DTH:
AKASH is the first ever Direct To Home (DTH) service launched in Bangladesh by BEXIMCO, with an aim to win the hearts of millions with its commitment to quality services that will revolutionize the entertainment industry in the country. Through DTH, as the name says, signals are directly received from the satellite by the dish installed at your premise. You will also need a set top box connected with your TV and a dish. Enhancing TV viewing experience for people is our top most priority and through continuous technological innovation, backed by our solid customer support, AKASH will redefine TV viewing experience like never before.
AKASH DTH Service in Bangladesh – 115 TV Channels & 20 HD Channels:
Subscription: BDT 399/Month
Avail AKASH DTH Connection at BDT 6,499! or only the Set Top Box at BDT 4,399! And enjoy free subscription for 1 month with zero installation charge.
AKASH DTH Full Setup Includes Followings:
Set Top Box – Receiver (1080p Full ON HD)
Remote
Power Adopter
Dish Antenna
LNB
AV Cable
HDMI Cable
Coaxial Cable
Free Installation
1 Month Free Subscription.
AKASH DTH Helpline Number & Contact Info:
Hotline: 16442
Helpline: 09609999000
Email: support@akashdth.com
List of AKASH DTH Channels (Bangladesh):