Welcome to GP 100 SMS 3.65TK With Validity 30Days. All Grameenphone customers are eligible to buy this GP 100 SMS Package. To get full information about Grameenphone 100 SMS 3.65TK Offer Continue reading this article.
GP 100 SMS 3.65TK Offer Full Details:
To active GP 100SMS @ 3.65TK. First, go to http://www.grameenphone.com/flexi-plan.
Then select 0MB Internet, 0 Minute Talk-Time, Validity 30 days, 100 SMS. To get clear idea view this picture.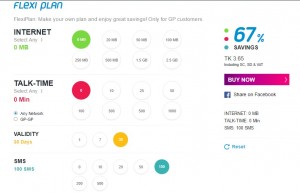 Click BUY NOW option. Enter your GP Number. Enter PIN number.
Then Click Agree and Continue Option. All work Done.
To Get All Information How To Use Flexi Plan Go To - GP Flexi Plan
Customers can use this 100SMS any Operator number.
VAT + SD + SC Including.
Thanks for Visiting Grameenphone 100SMS @ 3.65TK Offer and staying with us.