NU Honours 2nd Year Routine 2019 (New) – [Old Exam Routine Canceled]. Today, the National University published new exam routine of Honours 2nd year examines and Old routine is fully canceled. On the New National University Honours Second Year Routine 2019, the first exam will be starts from 14th November.
We know that 1 month ago, the National University authority also published 2nd year exam routine. Every 2nd year examines collect this routine. But on 11th November, 2019 the authority cancel the National University Honours 2nd Year Old Routine 2019 and published a new routine for examines.
If you are a National University 2nd year students and wan to collect the New Honours 2nd Year Exam Routine 2019. No tension, here the below, we update Honors 2nd year routine of National University.
Why National University 2nd Year Exam Routine 2019 Changed?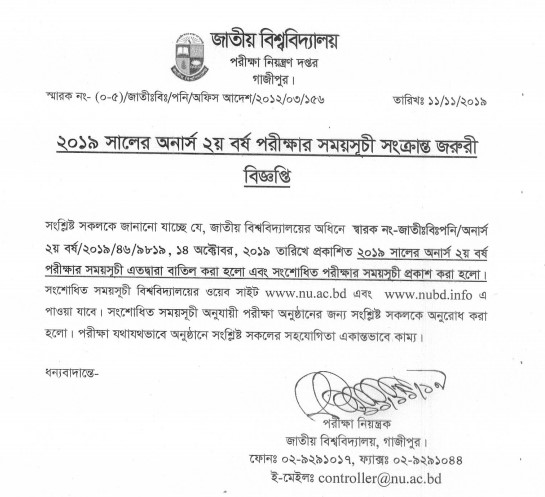 Today, the national university authority published exam routine related notice on their official website. But, on this notice, they will not declare main cause about Old Routine 2019 Cancellation.
How to collect New Honours 2nd Year Routine 2019?
The National University official website publish the Honours 2nd year new routine 2019 in a pdf file. But, maximum students want to download the NU Honours 2nd Year Exam Routine 2019 Image / Pictures. So, we update both version in this website.
New NU Honours 2nd Year Exam Routine 2019 PDF Download:
Here the below we update New exam routine 2019 of Honours 2nd Year. Just, click on the link and collect your Honours 2nd year exam routine 2019 PDF File.