GP Flexi Plan is a Most popular service for all Grameenphone valuable Customers. If customers can activate Talk times, SMS and Internet data for own validity Flexi plan is a only way to Done this. By GP Flexi Plan you can increase your MB validity. Many times we buy GP Bundle Pack but Grameenphone fixed their Talk times, SMS and Internet data validity. This is a problem for the user. If Customers can use GP Flexi Plan, this problem is solved. If, you don't know how to use Grameenphone Flexi Plan service? No tension, in this article we give a Full complete guideline that will help you use the GP Flexi Plan service.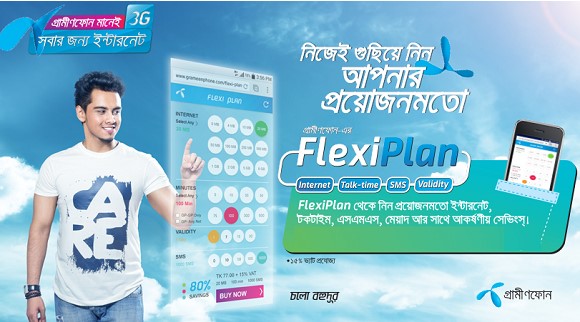 Talk-Time Selection By GP Flexi Plan:
First go to the Grameenphone Flexiplan website by clicking this LINK. There are many options available to select Talk Time for GP to GP operator and GP to Other operator of GP Flexi Plan service. In Grameenphone Flexi Plan service Talk-Time start from 0 Minute and end 1000 Minutes. There are 7 Minutes selection option their names 0, 25, 50, 100, 300, 500, 1000.  Two Sub category  on Talk-Time option name Any Network and GP to GP. If customers can buy talk-time only talking GP operator then click GP-GP option. Or customers can use talk-time by other operator then click Any operator option. If you need some internet data or SMS you can select pack with your Desire.
How to Check GP Flexi Plan Minutes Talk Time Balance By USSD Code?
The most popular question of GP Flexi Plan User, How to Check GP FlexiPlan minutes Balance By USSD Code? After buying Talk-Time pack Dial *566*7# for Any operator Talk Time, Dial *566*22# for GP-GP Talk Time. Customers can use Both Talk Times on 24 Hour during validity time.
You May Also Like: GP Internet Package Last Update
GP Flexi plan High-Speed Internet:
The Grameenphone customers can be activated High-Speed Internet From GP Flexi Plan. Many times we see that, Users used a high quality Smartphone such as Samsung Galaxy, HTC, Lenovo etc. But they don't get High-Speed For Browse. If this user used the Flexi Plan, High-Speed Internet they will get high speed browse from the  other Internet Package. If you buy an internet data from the GP Flexi Plan, you will be getting up to 1mbps speed in the 3G area network.
Internet Pack Selection By GP Flexi Plan:
Many Many Grameenphone Customers can use the GP Flexi Plan to buy Internet data for their mobile and modem Connection to browse or download. There are 11 different internet data option for GP customers their name 0 MB, 50 MB, 100 MB, 250 MB, 500 MB, 1 GB and 2 GB Data Pack. Customers can select any option of this MB pack. User can select the validity of this internet pack. To check GP Flexi Plan Internet data volume Dial *567# or *566*10#.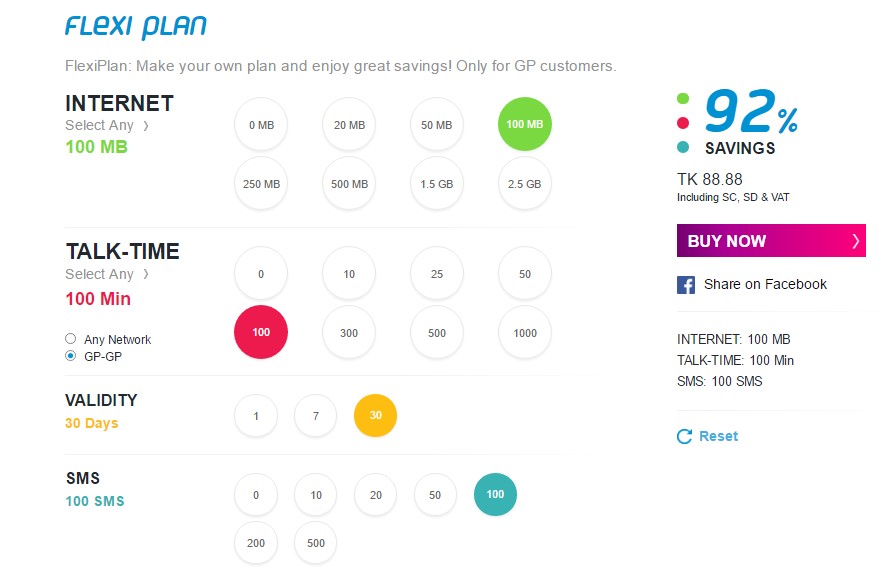 SMS Selection By GP Flexi Plan:
Are you searching how to create an SMS plan by the GP Flexi Plan? If your answer is yes, staying with us and read this article. There are 7 options in SMS section. Their name 10 SMS, 50 SMS, 500 SMS & 1000 SMS Pack. Select any SMS pack on SMS option an set validity.
You May Also Like: GP 200 SMS 4.87TK With Validity 30 Days

You May Also Like: GP 500 SMS 12.18TK With Validity 30 Days
How to Check GP Flexi Plan SMS Balance?
All the Grameenphone Flexi Plan SMS are searching how check GP Flexiplan SMS Balance by Dialing USSD Code. It is very to Check Own GP Flexiplan SMS Balance, Go to the Mobile Dial Option and Dial USSD Code *566*18# or *121*1*2#. After Dialing this USSD Code, Customers received a shot message from Grameenphone, where he/she how SMS remaining Balance or uses SMS or available SMS Balance.
How to Transfer or Gift Internet, Talk-Time, SMS by GP Flexi Plan:
The Flexi Plan, Supply you some extra benefits and facilities on Gift Menu. After Select your own plan and click on the purses menu, you will see Phone number Menu and push the bottom with Gift This. Click on the Bottom and enter the phone number where you Transfer or Gift Internet, Talk-Time, SMS by GP Flexi Plan. After Enter the phone wait few Second, the Grameenphone send an SMS with Flexi Plan Pin Code. Then enter the pin code and click Continue. After all work done, you got a Confirmation message which means your Internet, Talk-Time, SMS Gift or Transfer Succesfully. You will be charged for Transfer or Gift Internet, Talk-Time, SMS Pack.
Payment System of GP Flexi Plan:
After select Talk-time, Internet data and SMS both or Single items with any validity then click BUY NOW option. After clicking Buy Now option type a GP number where you Active this item. Then wait few times GP Send a PIN code to active this pack. Enter the pin code. After entering pin code Click agree and continue option. After Successful payment purses items will move on your desire account.
Thanks for Stay with us a long time and visiting GP Flexi Plan content. If you have any confusion or question or want to know more about the GP FlexiPlan Service, Just comment here. We reply as soon as possible with a correct answer.