How to Pay XI CLASS Admission 2019 Registration Fee? On the month of 10th June, 2019 the Bangladesh Education Board authority publish HSC Admission Result 2019. Now, selected students need to Pay Registration fee to confirm Primary Admission in Desire College. There are total three way to pay HSC Admission Registration Fee and their name is Teletalk, bKash & SureCash. You can easily pay the XI Class Admission fee from your own account by following below content. So, staying with us and follow the below content.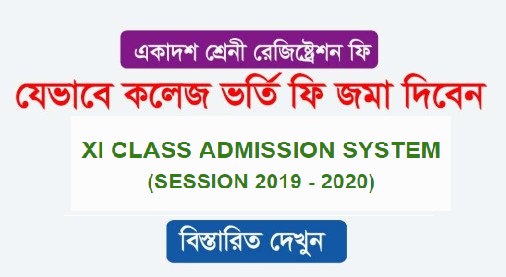 HSC Admission Payment Method through SMS:
Those who are going to apply through SMS will have to make payment with Teletalk SIM in the below way.
CAD <space> College / Madrasha EIIN <space> First 3 Letters of your Board <space> SSC Roll Number <space> Passing Year of SSC / Equivalent Exam (4 Digit) <space> SSC Registration Number <space> 1st Letter of Shift <space> 1st Letter of Version <space> Quota Code (if Applicable). Then send it to 16222.
Then in the reply Teletalk will send you a PIN. Save this PIN. now you have to send SMS again to confirm your payment. At this time go to your message option and type:
CAD <space> Yes <space> PIN (which Teletalk provides) <space> Contact Number and send to 16222.
Soon after this, you will be deducted TK.120 from your SIM. To understand the SMS process better, you can have a look at this article. you can read the 'HSC Application SMS system'.
XI Admission Payment Method Through Online:
And those who are going to apply online will be able to make the payment through the Rocket or UCash. After applying the online application you will be given the application ID. You have to provide that ID number as reference in the payment.
XI Registration Fee Payment Method BY Sure cash
Sure cash:-
Step 1: dial in mobile (Teletalk: *357#,Airtel: *257#, Banglalink: *495#, Grameen Phone/ Robi: 09609090909 or 09606060606
Step 2: Select payment
Step 3: Entry CADR
Step 4: Entry Student ID< board code><passing year><roll no>
Step 5: Entry Security Code
Step 6: entry PIN Code
Payment Process for Admission Confirmation Sure Cash
Payment Process for Admission Confirmation by Bkash
Note: By Payment Registration Fee, You Admission Will not Complete. So, Make Sure You Visit The Selected College and Complete Admission Within 27th June to 30 June 2019.