Education
SSC Result 2020 BD Check By Online & SMS System
Welcome to SSC Result 2020 Bangladesh. We are here to provide you all the necessary info. If you are an SSC Examine, this post is very important for you. The SSC Result 2020 will publish on 31st May 2020. The Result will publish at 2 PM by 10 Education Board of Bangladesh. Do you want to check your Result fast? Here is the complete information available. We hope by reading this post, you will eligible to check your Result fast. We are describing about the SSC Exam Result 2020 check Online, Mobile SMS, and Android Mobile App. All Systems will provide your Result.
How to Check SSC Result 2020 Online?
Everybody wants to check their SSC Exam Result 2020 online. It is very simple and easy. check your Result online fast & Free! Just wait until Publish the SSC Result 2020. When the Result will Publish, You can check your Result Online. You need to enter your SSC Roll Number, Registration number and Board name to Check Result. Just click the Official Link of Education Board Result Check Online, and then follow the step by step guideline.
You May Also Like: SSC Result 2020 Check by SMS – Teletalk, GP, Robi, Banglalink, Airtel
SSC Result 2020 Check Online
Select Examination as SSC/Dakhil. Select your Education Board Name, Enter SSC Roll Number, Enter Registration Number. Select passing year as 2020. Enter the verification key and click on the Submit button. Then, you will get your Result Online!
How to Check SSC Result 2020 by SMS?
If you don't have any Internet Device, You can check your Result easily from your Mobile Phone. Any Mobile will be eligible to check SSC Exam Result 2020. First, check your Mobile Balance. Remember that, you must require to have 2.44 TK or more balance in Main Account. Emergency Balance won't be eligible. Then wait for the Result Publish. If the Result has published, Go to your message option and type the below info.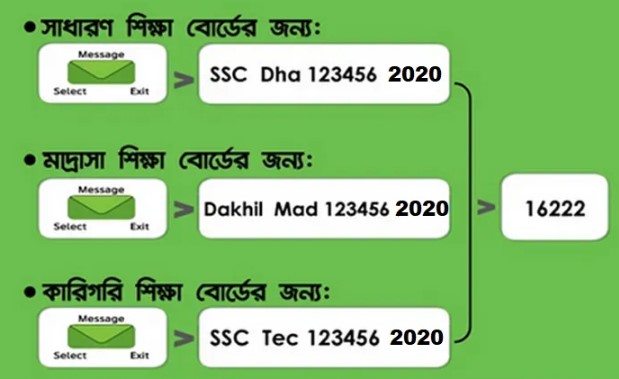 SSC <space> 1st 3 Letters of Education Board Name <space> Roll <space> 2020 and Send 16222
Example: SSC DHA 123456 2020 or, SSC DIN 654321 2020 or, SSC JES 112233 2020;
Then send the message to 16222 from any Number. After sending the message, you will receive your Result from 16222. The Result is powered by Teletalk Bangladesh Limited.
If you can't check your Result, you can ask here. Just enter your Education Board Name and SSC Roll Number. You will provide your Result soon. Thank you for being with us.