Hello Day – Happy World Hello Day 2019! Today (21st November) is Happy World Hello Day. Here the below we try to update World Hello Day 2019 Date, History, Celebrations Idea, Wishes, Quotes, Messages, Images & Status. So, staying with us and follow below content.
When is World Hello Day 2019?
Every year, the 3rd Thursday of November is officially celebrate as Happy World Hello Day. This year 2019, the World Hello Day is falls on 21st November.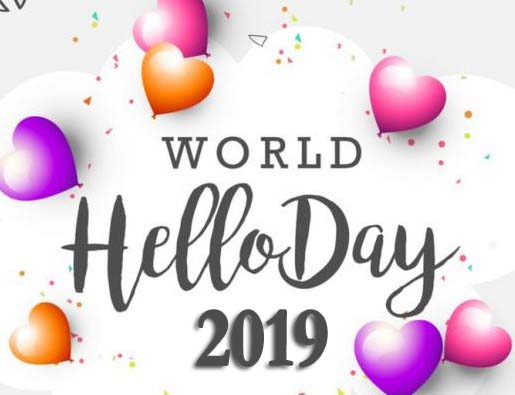 World Hello Day History:
World Hello Day was first created in 1973 in order to show people, especially the people of the Middle East that conflicts can and should be resolved through communication, and not violence. The idea is that clear, honest communication breeds peace. In the 1970s, the conflict between Egypt and Israel was quite severe, and many people began to fear yet another huge war would end up coming of it.
World Hello Day 2019 Wishes, Quotes, Messages, Greetings, Saying & Status:
Together we can make this world a happier place to live, if we agree to talk with open hearts and open ears…. Happy World Hello Day!!!

On World Hello Day, let us say hello to our shortcomings to make them our strengths and this world a new place to live….. Best wishes to you.

The day when power of love will become stronger than love for power, that day we will see a new world around us…. Wishing a Happy World Hello Day.

Let us make a sweet gesture on World Hello Day to connect with the disconnected to resolve the issues and create positive energy around us.

World Hello Day is not only for world peace but it is also for the peace within, peace with the people around us which we can achieve just by saying "Hello".

A cheerful, positive and happy greeting has the power to melt the toughest of the hearts…. Happy World Hello Day to you.

There is no problem that cannot be solved with communication and World Hello Day reminds us to always keep talks before war.

"Hello" is the sweetest way to start a conversation which can change all the equations…. Wishing you a very Happy World Hello Day!!!