The most popular Telecommunication company in Saudi Arabia name Zain. There are many users use Zain Operator. So, they are searching Zain Mobile KSA important USSD code, customer care, balance check system etc.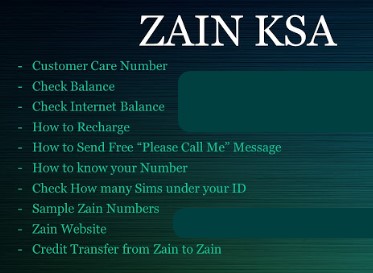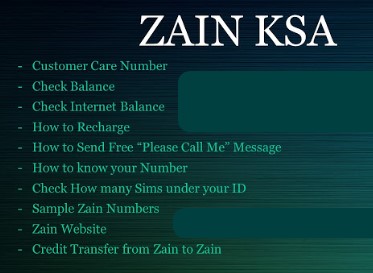 Zain Mobile KSA All Important Info:
Zain KSA customer care helpline number: 959.
To check own Zain number, Dial USSD code *34#.
Zain Website: www.sa.zain.com
To check How Many Zain Sim Cards are under your ID, just Send a Blank Message to 700123.
How to check Zain SA Main Balance?
It is very easy to check Zain SA main Balance. First, go to the dial option, then Call 959 or *142#.
How to check Zain Internet Balance?
There are three ways to check the remaining internet balance of Zain Operator. Dial USSD Code *405# or type a message "BC" and send to 700212 or Call 959.
How to Recharge Zain Number very easily:
First, go to the Dial option, then Dial *141* Recharge Coupon Number*ID Number#.
How to Send "Please Call Me" Free Message through Zain:
*123*Mobile Number# (3 Free "Please Call Me" Messages per Day)
Zain Credit/ Balance Transfer:
Sender:
Send SMS to 702702 containing message "bt Recipient Number Amount"
Example: bt 059XXXXXXX 20
Amount = Minimum: 10 SR, Maximum: 50 SR
Receiver:
Send SMS to 702702 containing message "id ID Number"
Example: id 123456789
The Zain credit transfer does not effect prepaid validity.
Thanks for staying with us a long time and visiting Zain Mobile Saudi Arabia important code. If you have any confusion or question or want to know more about the Zain Mobile SA, just comment here. We reply as soon as possible with a correct answer.