GP 40 Minutes 14 TK Offer
GP 40 Minute Offer! Welcome to GP 40 Minutes 14 TK Offer. All Gramenphone (Djuice, Smile, Bondhu, Amontron, Nishchinto, Ekota-1, Ekota-2, Ekota-3, Ekota-4, Business Solutions Prepaid 1,2,3,5, Shofol, GPPP and VP subscribers) customers are eligible to Enjoy GP 40 Minutes @ 14 TK Offer.
The Bangladeshi number one Telecommunication company "Grameenphone" brings a cheap rate minute bundle offer for their valuable customers, whose name is GP 40 minute 14 Taka Bundle offer. Under this offer, customers get 40 minutes GP-GP number for 16 hours validity.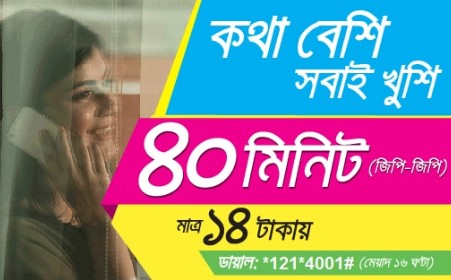 Are you Searching GP mini Minute offer? If your answer is yes. First, check the GP 40 min 14 taka offer details and Terms & Conditions.
GP 40 Minutes 14 TK Offer Details Info:
To activate GP 40 Minutes @ 14 TK package just, Dial *121*4001#.
Customers can use this 40 minutes only GP-GP Number.
The validity of GP 14 TK 40 min offer, 16 hours and validity starts from receiving confirmation message.
When 40 minute validity period expires and customers have any remaining minutes, it will be forfeited. On the other Hand customers can buy the same minute package within the validity period, the minute will be added higher validity.
To check GP 40 minutes remaining balance or uses minute, Just Dial *1000*2#.
The users can be used this minute any GP number.
VAT + SD + SC including in 14 TK.
Thanks for staying with us a long time and GP 40 Minutes 14 TK Offer article. If you have any question or confusion about the GP 40 minute offer, just comment here. We reply as soon as possible.
Comments
comments